Administrator
Staff member
I was recently at the local Hallmark store and had a chance to check out their 2021 Mini Santa Tiki Mug ornament. I knew it was called a "mini" but until I saw it person I really didn't get just how
tiny
they really are!
To give you an idea of their size, here is my thumb next to the display. I totally understand now why some folks I know mentioned that they were considering using them as earrings. I am kind of surprised though that they only offer the 'mini' version and not a normal ornament sized option. Maybe they're meant for tiny Charlie Brown trees?
Below is the link for the ornament on Hallmark's site.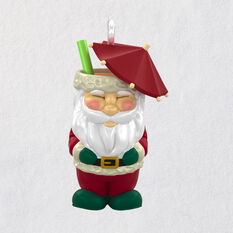 Spread tropical tidings with this Santa Tiki miniature Keepsake Christmas ornament. The Santa Claus tiki mug design features umbrella drink flair.
www.hallmark.com
Last edited: